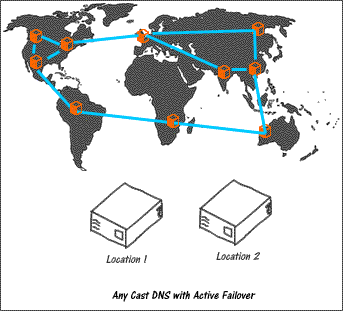 Enterprise Any Cast DNS
Enterprise Any Cast DNS is a DNS service which is spread across multiple locations for better stability. Enterprise Any Cast DNS runs in servers located in diverse geographical locations which provides better stability in DNS resolution even in case of an issue in one of the location. Because of its multizone presence, it is also very effective in mitigating DDOS attacks
Active Failover
Active Fail Over is a DNS based traffic routing mechanism where in if a primary serving host does not serve the requests, the traffic is re-routed to a secondary host. The primary host is actively monitored from different locations. When a request goes un responsive, the traffic is automatically re-routed to the secondary host. Since the routing is done at the DNS level, there is no need for a special hardware. Such an Active Fail Over mechanism allows you to keep multiple hosts in multiple locations and keep routing the traffic based on the host availability and response. Since the DNS service that is used is an any cast DNS, the stability of such a service is far more superior than a single hardware routing device.

Use our Two Decades of hosting expertise. Talk to our Experts.
Call

(0)8137-978-532

or

Start a Sales Chat

Now !

Application
Any Cast DNS and Active Failover can be applied in areas where routing does not depend on the user's side DNS caching. Because of this limitation, it is always used before multiple load balancing devices [Layer 4], which is then followed by Layer 7 load balancing devices.