Reseller Hosting that is designed for

Higher Profit

for you
Java Reseller Hosting powered by Apache Tomcat, Cloud Linux OS and SSD Caching. Dual Hexa Core Processor, 256 GB RAM Servers. FREE cPanel, Site Builder, Zero Deposit Domain Reseller, Payment Gateway. Start Building Your OWN Global Business.
Student
Rs.7999 / year ($99)
-
25 GB Disk Space
250 GB Bandwidth
10 Domains Hosting
Hosted in Intel Xeon Dual Hexa Core 64 GB RAM Server

Nano
Rs.1499/month
Rs.
1199 / month
($25)
500 GB Disk Space
1000 GB Bandwidth
20 Domains Hosting
Hosted in Intel Xeon Dual Hexa Core 256 GB RAM Server

Unlimited
Most Popular
Rs.2499/month
Rs.
1699 / month
($35)
1000 GB Disk Space
5000 GB Bandwidth
50 Domains Hosting
Hosted in Intel Xeon Dual Hexa Core 256 GB RAM Server with SSD Caching
Premium
Rs.24999 / year ($379)
-
5000 GB Disk Space
250000 GB Bandwidth
100 Domains Hosting
+ 2 Sub Resellers
Hosted in Intel Xeon Dual Hexa Core 256 GB RAM Server with SSD Caching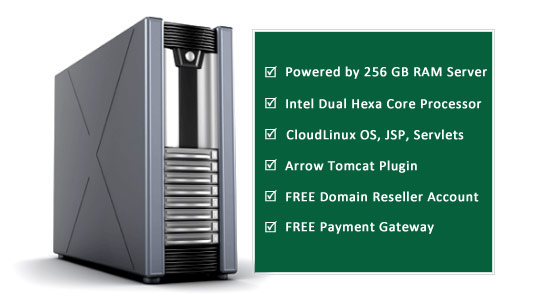 cPanel & Apache Tomcat

Java Reseller Web Hosting is powered by cPanel / WHM. Apache Tomcat 7.x run as a servlet container along with Apache web server in Cloud Linux OS.
Scripting & Database

JSP 2.x, Servlets 3.x, PHP 5.x Support. Mysql 5.x Database Support. In SSD Caching enabled accounts, Mysql DBs run from SSD drives for very high speed and performance.
Email and Spam Protection

Smart Phone and Blackberry compatible mail boxes. POP3, SMTP and Webmail Access. On Demand and On Access Virus Scanning. Spam Assassin protection.
Apps Installer

Install widely used apps like WordPress, Joomla, Mambo, osTicket, PerlDesk, phpBB, OS Commerce, 4Images Gallery etc in a single click using Softaculous.
FREE Domain Reseller

Silicon House is an .IN domain registrar in India. Linux Web Hosting Reseller, can avail FREE Domain Reseller Account with ZERO initial deposit.
FREE Payment Gateway

A Silicon House Java Reseller Web Hosting Special. Get a Payment Gateway with Zero Setup Fee.
Special Features

FREE! PAYMENT GATEWAY
SEO TOOLS, Google Site Map Generator, Link Builder and many more site marketing tools
SITE BUILDER responsive, compatible with all devices such as PC,Mobile,Tablet
CLOUDFLARE DDOS protection
ARROW SHIELD securing sites from more than 14000 infections and malware attacks
MONSTER SERVERS from 48 GB to 256 RAM for robust performance
Available Addons

1. New! Add a Sub Reseller
2. XMAIL Trac for tracking mails in a particular domain
3. Arrow SQLArc – Automated Database Backup for all your websites
4. Arrow Media Streaming for Live / On Demand Videos
5. FFMPEG
6. Dedicated IP Address
7. Comodo Extended Validation SSL Certificates
Reseller Hosting FAQ
Can I enable JSP / Servlet Support in sub domains ?
Yes, it is possible to enable
JSP / Servlet hosting
support in sub domains. But the sub domain should be added like a domain name. It should be added like an individual domain name with separate cpanel user.
Do you support .war file deployment in Java Reseller Hosting ?
How does jsp or servlets work in your Reseller Account?
In Java Reseller Web Hosting, Apache is the webserver and Tomcat acts as a servlet container. Any request is first made to apache then via AJP is forwarded to Tomcat [ If jsp or servlet is requested ]. Finally Tomcat delivers the output of jsp or servlet.
What is the hardware configuration of your Reseller Hosting servers ?
Silicon House's hardware configurations for Reseller Web Hosting servers are unmatched in the Industry. Dual Hexa Core Intel Processors, 256 GB RAM, 1 Gbps Port Speed with 160 Gbps Internet Backbone helps us deliver your web hosting customer's webpage at a very very high speed throughout the world when compared to others.
Where can I get Pre-Sales questions answered ?
You can get all your pre-sales questions related to Reseller Web Hosting answered in our Sales Chat. Click here to Chat Now. We have also complied list of useful questions that could of use to you. Please visit out Pre-Sales FAQ Section.
Technical Details
The important criteria that determine the performance and profitability of the
Best Reseller Hosting
are
1. High End Hardware
2. Secured OS / Optimized Scripting
3. Arrow Tomcat Plugin With cPanel
4. Premium Bandwidth Network Backbone
5. Addons

High End Hardware: Reseller Hosting servers are turbo powered by Intel Dual Hexa Core, 256 GB RAM Servers. Such a high end hardware allows to allot more heap size for running Java applications which is very stable and at the same can withstand any sudden spike in usage.

Secured OS / Optimized Scripting: Heap Size allocation is higher due to availability of 256 GB RAM. This allows JSP, Servlets to run smoothly even during sudden spike in users. Cloud Linux OS with cagefs provides the highest level of isolation of individual users (websites) in a reseller web hosting environment. Such an isolation is very important for security and performance. One website's spike in usage or vulnerability will not affect other websites in a Cloud Linux OS as LVE and Cagefs provide better isolation.

Arrow Tomcat Plugin With cPanel: Silicon House Reseller Hosting comes with FREE cPanel / WHM for managing key functions of your reseller web hosting such as adding domains, managing ftp, edit dns, create and restore mysql databases, sub domains etc. However cPanel has stopped supporting Apache Tomcat in Easy Apache 4. Silicon House has developed Arrow Tomcat Plugin for cPanel. The highlight is, it allows better control on Apache Tomcat than before and can be optimized to a granular level.

Premium Bandwidth Network Backbone: Port speed and the Backbone Connectivity determines uniform functioning of websites hosted in your reseller account. With 1 Gbps Port Speed and 160 Gbps Backbone Connectivity from multiple providers, your reseller hosting business should run non-stop 24X7, 365 Days.

Addons: Cross Selling hosting addons such as SSL Certificates, Domains Registration etc is key to earn Higher Profit in a Reseller Hosting. Silicon House and its community of developers keep developing range of addons such as XMAIL Trac, Arrow SQLArc, Arrow Sub Reseller etc which allows you to sell more and earn higher profit as a Web Hosting Reseller.
Reseller Hosting Video