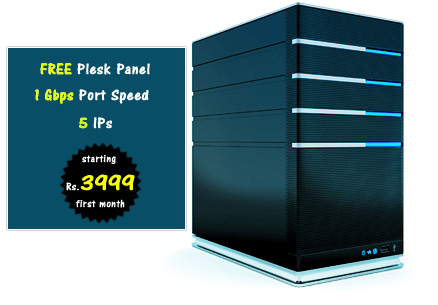 Powered by VMWare vCloud
2 Cores to 32 Cores CPU Options
512 MB to 256 GB RAM Options
Hybrid SAN Technology
Windows OS
FREE 10 Gbps Networking
FREE cPanel / WHM
Arrow Platform Apps Bundle


SANDBOX 1
Rs.5999 / mo
2 vCPU Cores
2 GB RAM
40 GB SATA
1 IP
1 Gbps Port
1000 GB / mo
FREE ! Plesk 10 Domain Licence
ASP, .NET, PHP, MS Access, MSSQL Support
Arrow Shield, Arrow SQLArc, Arrow Health Check
Special ! Arrow Platform


SANDBOX 2
Rs.7999 / mo
2 vCPU Cores
4 GB RAM
50 GB SATA
1 IP
1 Gbps Port
1.5 TB / mo
FREE ! Plesk 10 Domain Licence
ASP, .NET, PHP, MS Access, MSSQL Support
Arrow Shield, Arrow SQLArc, Arrow Health Check
Special ! Arrow Platform


APPS 1
FAST MOVING
Rs.10999 / mo
2 vCPU Cores
6 GB RAM
60 GB SATA
1 IP
1 Gbps Port
2 TB / mo
FREE ! Plesk 10 Domain Licence
ASP, .NET, PHP, MS Access, MSSQL Support
Arrow App Sync, Arrow Health Check, Arrow Shield, Arrow SQLArc
Special ! Arrow Platform


APPS 2
Rs.14999 / mo
4 vCPU Cores
8 GB RAM
70 GB SATA
1 IP
1 Gbps Port
25 TB / mo
FREE ! Plesk 10 Domain Licence
ASP, .NET, PHP, MS Access, MSSQL Support
Arrow App Sync, Arrow Health Check, Arrow Shield, Arrow SQLArc
Special ! Arrow Platform


MONSTER 1
Rs.21999 / mo
4 vCPU Cores
16 GB RAM
90 GB SATA
1 IP
1 Gbps Port
30 TB / mo
FREE ! Plesk 10 Domain Licence
ASP, .NET, PHP, MS Access, MSSQL Support
Arrow App Sync, Arrow Health Check, Arrow Shield, Arrow SQLArc
Special ! Arrow Platform


Use our Two Decades of hosting expertise. Talk to our Experts.
Call

(0)8137-978-532

or

Start a Sales Chat

Now !

Windows Cloud Server Hosting is built over VMWare vCloud technology and powered by Arrow Server Platform. It allows you to run your application / portals in cloud server instances that can be scaled up in key resources such as CPU, RAM, Storage instantly. The Cloud Server Hosting Instances can also be combined with Bare Metal Servers over private network, thus allowing to build a hybrid hosting environment which can support any type of load as well as technology platform. Arrow Shield provides state of the art on demand and on access protection for your dedicated servers. Arrow Apps bundle like Arrow Global Load Balancer can scale your application / portal to a High Availability setup instantly. Learn more about Arrow Server Platform.
Operating System

Windows Cloud Server hosting comes with Windows Operating System with full administrator access via RDP
Web Server

Internet Information Server [ IIS ] is the default web server in your Windows Cloud Servers.
Database Server & Scripting

MSSQL Express is the default database server in Windows Cloud Server hosting. MS Access, MySQL are also available. * MSSQL Web Edition attracts additional cost. Scripting languages include ASP, .NET, PHP 5.x with components such as Ajax, MDAC, MVC, Silverlight.
Control Panel

Windows Cloud Servers come with Plesk Control Panel FREE [ 10 domains ] [ View Demo ] .
Email and Spam Protection

Smart Phone and Blackberry compatible mail boxes. POP3, SMTP and Webmail Access. Virus scanning at network level as well as account level. On demand and On access virus scanning. Advanced anti-spam protection.
Network

10 Gbps Networking and 1 Gbps port speed hosted in network backbone of 160 Gbps comes standard in all our Linux Cloud Server configurations.
Hardware

All Cloud Servers are powered by Intel Processor. Processor options such as 2 Cores, 4 Cores, 6 Cores, 8 Cores, 12 Cores, 16 Cores are available. Hybrid SSD SAN storage options ranging from 40 GB to 1 TB is available. RAM options are available from 512 MB to 256 GB. [ Addons to regular configs are at an additional price. Compatibility has to be checked before arriving at a configuration ].
Linux Cloud Server Hosting Support

Silicon House – Rapid Action Force offers world class support for cloud server hosting in India through chat, phone and our member portal. Cloud Server hosting is pre-hardened with optimal configuration and security systems in place. All our key cloud server infrastructure is continuously monitored with hundreds of samples are taken at any given time. Learn more about cloud server hosting support.
FAQ
Can I install custom software in my Windows Dedicated Server Hosting ?
Yes, you can install any custom software in your Windows Dedicated Server Hosting since you have Full Administrator Access.
Do you provide Plesk Control Panel FREE in Windows Dedicated Server Hosting ?
Your Windows Dedicated Server Hosting comes with Plesk Control Panel [ 10 Domains ] pre-installed. You will be able to do normal system admin tasks such creating subscriptions, hosting plans, adding domain etc using the Plesk Control Panel.
What Operating System is supported in Windows Dedicated Server Hosting ?
Windows 2012 comes pre-installed in your Windows Dedicated Server Hosting.
Do I get Administrator Access to my Windows Dedicated Server ?