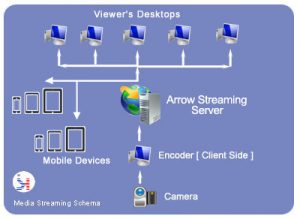 NANO
Rs.29999 / yr
Rs.2999 / mo ($49 / mo)
1 GB Linux Disk Space
250 GB Bandwidth / mo
1 Streaming Mount
1 Gbps Port Speed
Arrow Streaming Server
Video Streaming (FLV, F4V, MP4, 3GP)
Audio Streaming (MP3, F4A, M4A, AAC)
Shared Objects, Live Stream Publishing (RTMP, RTMPT, RTMPS, and RTMPE)
HLS Streaming for viewing in Mobile Devices
Arrow Shield Protection
Rs.49999 / yr
Rs.4999 / mo ($79 / mo)
10 GB Linux Disk Space
500 GB Bandwidth / mo
3 Streaming Mounts
1 Gbps Port Speed
Arrow Streaming Server
Video Streaming (FLV, F4V, MP4, 3GP)
Audio Streaming (MP3, F4A, M4A, AAC)
Shared Objects, Live Stream Publishing (RTMP, RTMPT, RTMPS, and RTMPE)
HLS Streaming for viewing in Mobile Devices
Arrow Shield Protection
PREMIUM
Rs.69999 / yr
Rs.6999 / mo ($109 / mo)
25 GB Linux Disk Space
1500 GB Bandwidth / mo
5 Streaming Mounts
1 Gbps Port Speed
Arrow Streaming Server
Video Streaming (FLV, F4V, MP4, 3GP)
Audio Streaming (MP3, F4A, M4A, AAC)
Shared Objects, Live Stream Publishing (RTMP, RTMPT, RTMPS, and RTMPE)
HLS Streaming for viewing in Mobile Devices
Arrow Shield Protection
Media Streaming Server Hosting or Live Web Casting – Audio / Video Media Streaming is delivering audio / video content continuously over the web. With broadband spreading in every corner of the world and latest compression / delivery techniques, Media Streaming is becoming more popular. Silicon House uses Arrow Streaming Server environment which is built on a high end, high bandwidth platform. Arrow Streaming Servers allow streaming in multiple mounts simultaneously without any data congestion.
Media Streaming Servers are used in the following ways
1. On demand audio / video streaming
2. Live Streaming or Web Casting
Media Streaming Technology

Real Time Messaging Protocol (RTMP) is a protocol used for streaming audio, video and data over the Internet, between a player and a server.
The raw TCP-based RTMP protocol maintains a single persistent connection and allows real-time communication. To guarantee smooth delivery, the protocol splits video and data into 128-byte fragments (except for audio ). Fragments are then interleaved and multiplexed over a single connection. With longer data chunks, the protocol only carries a one-byte header per fragment, thus incurring very little overhead.
HTTP Live Streaming: HTTP Live Streaming (HLS) is adaptive bit rate streaming delivered over http, which enables delivering audio / video content to mobile and tablet devices. HLS is very crucial for viewing video / audio streams in apple hand held devices. One advantage in HLS is the client can switch to an optimal bit rate mid stream based on the client's network availability.
Types of content that can be streamed
Streaming Video (FLV, F4V, MP4, 3GP)
Streaming Audio (MP3, F4A, M4A, AAC)
Shared Objects,RTMP, RTMPT, RTMPS, and RTMPE
HLS Streaming for viewing in mobile devices
Live Stream Publishing
Application

Live Streaming Event: Broadcasting live events over the web such as Marriages, Sales Launches, Training Sessions, CEO meets, Sales Reviews, Tele Medicine, Surveillance etc.
Training: Live training sessions and pre-recorded training sessions can be streamed using live and on demand streaming. This will enable a tutor to reach pupils across continents.
Record Live Events: Live Streamed content can now be recorded in the streaming server which can later be archived for Video On Demand viewing.
On Demand Streaming Entertainment: Media streaming is predominantly used in entertainment industry to stream audio/video contents. Movies, Songs Play lists, Streaming TV events are to name a few.
Corporate: Pre-placement talks for fresh candidates, infrastructure and facilities streaming to acquire bigger projects, On demand streaming of apartments or construction projects, live sales reviews, dealers meet, investor meet etc.
Matrimonial: On demand streaming video of brides and grooms.
Run Recorded Video as Live Streaming: Recorded Videos can now be streamed live. This enables running Live TV, FM channels over the web with pre-recorded videos.
FAQ
Can I view Streaming in my mobile phone ?
On Demand Video Streaming can be viewed in your mobile phone. However viewing Live Web Casting in your mobile phone is available only with HLS Live Streaming. This is possible only in a Media Streaming Cloud Server or Media Streaming Dedicated Server.
What type of Internet Connection I should have for doing Live Web Casting ?
Ideally a leased line with high bandwidth is required. However with advance techniques Streaming Servers are now able to deliver good quality streaming with broadband connections. This also purely depends on what resolution and quality you do the Live Web Casting. For a compressed low resolution streaming, 2-4 Mbps of broad band connection should be fine.
What are the equipment I require to do Live Web Casting ?
Adobe Media Encoder software installed in your system with Internet Access. Any camera that can connected to your system whose video source is detected in the Adobe Media Encoder. Mic connected to your system. These are enough to do a Live Web Casting. However you can also use output from a Mixer or a video editing device to stream live. If should be detected in the Abode Media Encoder.