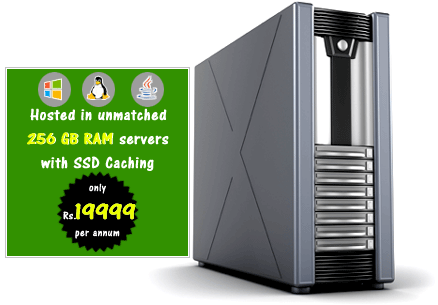 Hosted in Dual Hexa Core 256 GB RAM Servers
cPanel / WHM Control Panel, Cloud Linux OS
JSP, Servlets, PHP, MySQL
Plesk Panel, Windows, ASP, .NET, PHP, MSSQL
Softaculous one click app installer
FREE Payment Gateway
FREE Zero Deposit Domain Reseller
24 X 7 Support


LINUX
UNLIMITED Linux Disk Space
UNLIMITED Bandwidth
25 Domains Hosting
Hosted in Intel Xeon Dual Quad Core 256 GB RAM Server with SSD Caching
DirectAdmin Panel, Cloud Linux OS


WINDOWS
ALL IN ONE RESELLER PLAN
Rs.19999 / yr ($299 / yr)
2000 GB Linux Disk Space
20000 GB Bandwidth
25 Domains Hosting
Hosted in Intel Xeon Dual Hexa Core 256 GB RAM Server
Plesk Panel, Windows OS, MSSQL Web Edition


JAVA
200 GB Linux Disk Space
1000 GB Bandwidth
25 Domains Hosting
Hosted in Intel Xeon Dual Hexa Core 256 GB RAM Server with SSD Caching
cPanel / WHM, Apache Tomcat 7.x, Cloud Linux OS
cPanel & Cloud Linux OS

Linux and Java Reseller Web Hosting is powered by cPanel / WHM. Cloud Linux OS offers protection and individual website isolation with CageFS and LVE manager.
Plesk & Windows OS

Windows Reseller Web Hosting is powered by Plesk Panel. Windows OS offers a very stable and secured environment for web hosting.
Scripting & Database

PHP 5.x, Perl, Python, JSP 2.x, Servlets 3.x Support. Mysql 5.x Database Support. Mysql DBs run from SSD drives for very high speed and performance.
Scripting & Database

ASP, .NET, PHP 5.x. MS Access, MSSQL Web Edition, Mysql 5.x Database Support. Web Edition uses maximum number of cores hence your application will load faster.
Email and Spam Protection

Smart Phone and Blackberry compatible mail boxes. POP3, SMTP and Webmail Access. On Demand and On Access Virus Scanning. Spam Assassin protection.
Apps Installer

Install widely used apps like WordPress in a single click using Application Vault or Softaculous.
FREE Domain Reseller

Silicon House is an .IN domain registrar in India. As a Web Hosting Reseller, you can avail FREE Domain Reseller Account with ZERO initial deposit.
FREE Payment Gateway

A Silicon House Linux Reseller Web Hosting Special. Get a Payment Gateway with Zero Setup Fee.
Special Features

FREE! PAYMENT GATEWAY
SEO TOOLS, Google Site Map Generator, Link Builder and many more site marketing tools
SITE BUILDER responsive, compatible with all devices such as PC,Mobile,Tablet
CLOUDFLARE DDOS protection
ARROW SHIELD securing sites from more than 14000 infections and malware attacks
MONSTER SERVERS from 48 GB to 256 RAM for robust performance
Available Addons

1. New! Add a Sub Reseller
2. XMAIL Trac for tracking mails in a particular domain
3. Arrow SQLArc – Automated Database Backup for all your websites
4. Arrow Media Streaming for Live / On Demand Videos
5. FFMPEG
6. Dedicated IP Address
7. Comodo Extended Validation SSL Certificates
Reseller Hosting FAQ
What is DA Control Panel or Direct Admin Control Panel
Direct Admin Control Panel is the web hosting industry's fastest control panel with unique features such as Unified Reseller and User ICONIC interface, One Click Installer, Node JS APP, Automatic DKIM and SPF management. In Reseller Hosting, it offers one of the best features by combining both Reseller and User Module under one interface. This makes managing the reseller account easier for a Reseller. The latest ICONIC interface is very attractive and feature rich.

Direct Admin is designed to be light weight and hence it's services and demons use less cpu and memory foot print. This is very essential for the server to run faster to deliver your webpages. This is one specialty which makes DA servers work faster than other control panels.

General features include;
Add, Edit, Delete Domains, Emails, Databases
Multi-PHP
Anti-Spam Spam Assassin Protection, DKIM, SPF
Web Mail, PHP MyAdmin, File Manager
Backup
and many more
What are the Payment Options Available ?
What is Reseller Web Hosting ?
Do you provide control panel for managing my Reseller Account ?
What is the hardware configuration of your Reseller Hosting servers ?
Silicon House's hardware configurations for Reseller Web Hosting servers are unmatched in the Industry. Dual Hexa Core Intel Processors, 256 GB RAM, 1 Gbps Port Speed with 160 Gbps Internet Backbone helps us deliver your web hosting customer's webpage at a very very high speed throughout the world when compared to others.
What is Caching and what type of caching do you provide ?
Caching is a technology that allows to deliver frequently accessed content or static content [ like images, css, js etc. ] from a quickly retrievable state rather than how it is accessed normally. Silicon House deploys various caching technologies for lightning speed delivery of your websites. SSD caching with varnish and Mysql running from SSD drives enable a very high speed delivery of your content. However Silicon House is one of the cheapest Linux Reseller Web Hosting Provider in the industry
Where can I get Pre-Sales questions answered ?
You can get all your pre-sales questions related to Reseller Web Hosting answered in our Sales Chat. Click here to Chat Now. We have also complied list of useful questions that could of use to you. Please visit out Pre-Sales FAQ Section.
Technical Details
The key factors that determine the performance and profitability of the
Best Reseller Hosting
are1. Robust Hardware
2. Pre-Hardened OS / Scripting
3. Feature Rich Control Panel
4. Premium Bandwidth Network Backbone
5. Addons

Robust Hardware:
Reseller Hosting
servers are powered by 256 GB RAM Servers with Intel Xeon Dual Hexa Core Turbo Processors. Such a robust hardware can provide a very stable and high speed performance and at the same can withstand any sudden spike in users / visits. This is very crucial when it comes to a shared reseller hosting environment.

Pre-Hardened OS / Scripting: Cloud Linux OS with cagefs provides the highest level of isolation of individual users (websites) in a reseller web hosting environment. Such an isolation is very important for security and performance. One website's spike in usage or vulnerability will not affect other websites in a Cloud Linux OS as LVE and Cagefs provide better isolation.

Feature Rich Control Panel: Silicon House Reseller Hosting comes with FREE cPanel / WHM for managing key functions of your reseller web hosting such as adding domains, managing ftp, edit dns, create and restore mysql databases, sub domains etc. One click installers such as Softaculous allows you to install open source applications like wordpress, joomla and hundreds more in a single click.

Premium Bandwidth Network Backbone: Port speed and the Backbone Connectivity determines uniform functioning of websites hosted in your reseller account. With 1 Gbps Port Speed and 160 Gbps Backbone Connectivity from multiple providers, your reseller hosting business should run non-stop 24X7, 365 Days.

Addons: Cross Selling hosting addons such as SSL Certificates, Domains Registration etc is key to earn Higher Profit in a Reseller Hosting. Silicon House and its community of developers keep developing range of addons such as XMAIL Trac, Arrow SQLArc, Arrow Sub Reseller etc which allows you to sell more and earn higher profit as a Web Hosting Reseller.
Reseller Hosting Ebooks
Reseller Hosting Ebooks from Silicon House

How do you determine whether a Reseller Hosting is Good?What are the features of a Good Reseller Hosting Account ?
This Reseller Hosting Ebook gives a brief insight of Web Hosting Industry and discusses Important Features you MUST consider before choosing a Reseller Account. This also introduces to the concept of
Reseller as a Consultant
. A must read Ebook for customers who wish to
Start Reseller Hosting Business. Download Now !

How do some Resellers make huge Profit?What are the Secrets Behind Their Success ?
Understand the Key problems faced by Web Hosting Resellers and possible Solutions for them with this Reseller Hosting Ebook. This also explains the concept of
Consultative Reselling
. A must read Ebook for Web Hosting Resellers who wish to be
Successful and Earn Higher Profit. Download Now !